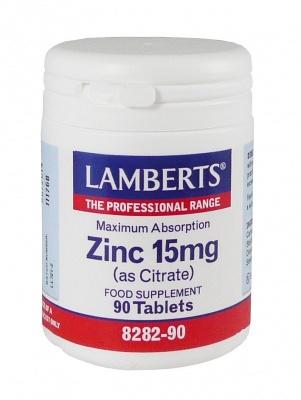 ZINC CITRATE 15MG 90 TABS
LAMBERTS
LB8282-90
Lamberts Zinc 15mg 90 tabs
Zinc 15mg in Citrate form

Zinc is essential for all protein synthesis in the body. Any extra physical or mental demands made on the body can increase the need for zinc or cause our bodies to lose extra zinc. 

One fifth of zinc in the body is found to be in skin and it is involved in tissue renewal. Indeed the health of the nervous, immune and reproductive systems are all influenced by zinc, as are the senses of taste and smell. 

This product supplies Zinc in citrate form for maximum absorption.  Each tablet provides a full 15mg of Zinc.


Nutritional Information:
(Typically per tablet):  
Zinc (as Citrate) - 15mg.

Ingredients:
Calcium Carbonate, Zinc Citrate, Modified Starch, Cellulose, Silicon Dioxide, Magnesium Stearate, Stearic Acid.

Directions:
Take 1 tablet daily with a meal, or as directed by a practitioner or pharmacist.

Other:
Do not exceed recommended daily dose. Suitable for vegetarians.