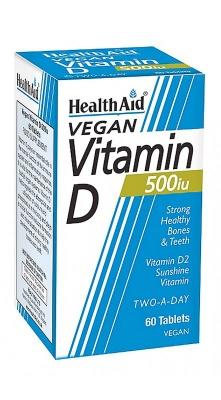 VITAMIN D 500IU 60 TABS
HEALTH AID
HA801220
Health Aid Vitamin D 500iu 60 tabs
Vitamin D is a fat soluble vitamin that plays an essential role in enhancing the immune system. Vitamin D is vital for the maintenance of the bodys organ systems. It contributes to normal absorption and utilization of calcium and phosphorous in the body and plays a crucial function in bone formation and mineralization to help the development of strong and healthy bones and teeth.
What are HealthAid Vitamin D Tablets for?
Contribute to normal absorption and utilization of calcium
Contribute to the maintanance of normal bones and muscle function
Contribute to the maintanance of strong and healthy teeth
Contribute to the maintanance of normal immune function
Has a role in the process of cell division
People who wish to maintain strong healthy bones
Those who do not have enough exposure to sunlight
Elderly people who are more prone to bone disorders
Elderly and growing children who may not be able to obtain adequate amount of the vitamin
People with a darker skin tone, who find it difficult to produce enough of the vitamin
Each Tablet Contains (Average):
Vitamin D (500iu) - 12.5ug
Ingredients:
Bulking Agent (Maltodextrin, Microcrystalline Cellulose), Vitamin D2 (Ergocalciferol), Anti-caking Agent (Silicon Dioxide, Veg. Stearic Acid, Veg. Magnesium Stearate).
Directions:
Adults and children over 12 years of age, one to two tablets daily. Do not exceed recommended daily intake unless advised by a suitably qualified person.
Other:
Free from yeast, wheat, soya, dairy, salt, artificial colours, preservatives & flavourings.