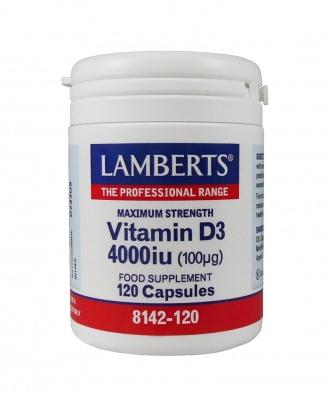 VITAMIN D 400iu 120 TABS
LAMBERTS
LB8140-120
Lamberts Vitamin D3 400iu 120 tabs
Vitamin D is essential for healthy bones, as well as teeth, and is also thought to be important for a healthy immune system. Each tablet provides a full 400iu of vitamin D3 (cholecalciferol) which is the preferred choice compared to the vitamin D2 form.


Nutritional Information: 
(Typically per tablet):
Vitamin D3 - 400iu (10ug).

Ingredients:
DiCalcium Phosphate, Cellulose, Vitamin D3, Stearic Acid, Silicon Dioxide, Magnesium Stearate.

Directions: 
Take 1 tablet every 6 hours, up to a maximum of 3 per day, or as directed by a practitoner or pharmacist.

Other:
Do not exceed recommended daily dose. Suitable for vegetarians.