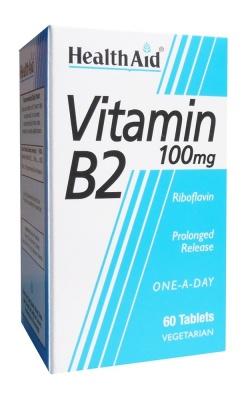 VITAMIN B2 100mg 60'S (Riboflavin)
HEALTH AID
HA801050
Health Aid Vitamin B2 (Riboflavin) 60 tabs
Vitamin B2, also known as Riboflavin, facilitates red blood cell formation, cell respiration and growth. Riboflavin helps energy production by metabolising fats, sugars and protein. Riboflavin is important for good muscle tone and is excellent for maintaing good vision, skin,hair and nails. HealthAid provides a unique B2 fromulation that is readily absorbed for maximum utilization and benefit to the body.

Each Tablet Contains (Average):
Riboflavin (Vitamin B2) - 100 mg

Ingedients:
Calcium Phosphate, Vitamin B2 (as Riboflavin), Shellac, Veg. Stearic Acid, Veg. Magnesium Stearate.

Direction:
Adults and children over 12 years of age, one tablet daily. Do not exceed recommended daily intake unless advised by a suitably qualified person.