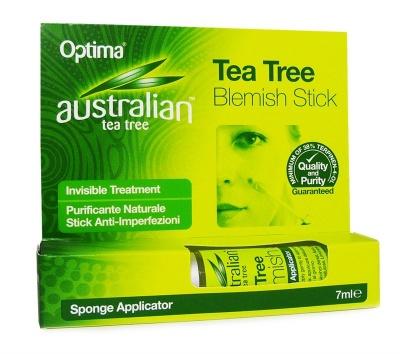 TEA TREE BLEMISH STICK ORG. 7ML
AUSTRALIAN
AU99406A
Australian Tea Tree Tea Tree Blemish Stick 7ml
Australian Tea Tree Blemish stick provides an antiseptic barrier which can assist with problem skin. Tea Tree Oil is a traditional antiseptic oil used for thousands of years by the indigenous population of Australia. Known by many as the most powerful natural antiseptic known to man, this unique oil has numerous benefits due to its antibacterial and antiseptic properties. Australian Tea Tree products contain only the finest Tea Tree Oil, grown and harvested in the rural areas of Australia . Each batch of Australian Tea Tree Oil is tested to ensure that it confroms to our strict quality guidelines which are over and above industry standards.

Ingredients:
Alcohol Denat, Aqua, Melaleuca Alternifolia (Tea Tree oil), Hydroxypropylcellulose, Limonene.

Directions:
Apply gently to appropriate area two-three times a day.

Warnings:
Avoid contact with eyes. Store in a cool dry place away for the direct sunlight.