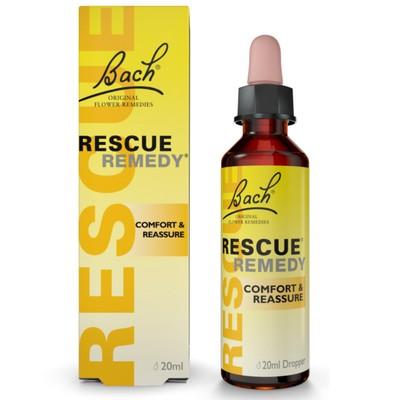 RESCUE REMEDY SPRAY 20 ML
BACH
BR7110
Bach Original Flower Remedies Rescue Remedy Spray 20ml
Get the most out of your busy day and have Rescue by your side.  Our Rescue Remedy Spray combines the five Bach Original Flower Essences, all or which are uniquely sourced from the original gardens identified personally by Dr Bach, close to where he lived and worked in Oxfordshire.

A heritage format, Rescue Spray is convenient and portable.  Simply add two sprays directly to your tongue and repeat as often as required.
Can be used discretely anytime anywhere.
Pocket Size.
Easy to use.

Ingredients:
Grape Alcohol (approx 27% v/v), Flower Extracts of:Rock Rose, Impatiens, Clematis, Star of Bethlehem and Cherry Plum.

Directions:
Activate the spray pump before use. Bring the spray nozzle up to your mouth and apply two sprays onto your tongue. Repeat as often as required.

Other:
Do not spray into your throat or eyes.
Suitable for the whole family, including Vegetarians and Vegans.