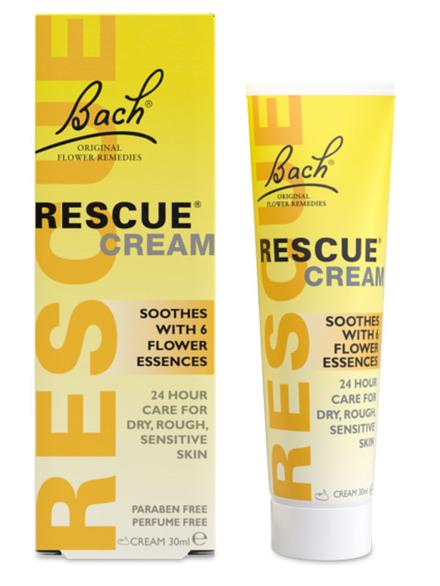 RESCUE CREAM 50 ML
BACH
BR7124
Rescue Cream 50ml
Rescue Cream combines 5 flower essences along with Dr.Bach's cleansing essence of Crab Apple.  With regular use it helps protect the skin against environmental influences and other external stress factors.
An intensive moisturiser designed to rehydrate and soothe dry, sensitive or rough skin and restore it to its natural condition.
Non greasy
Easy to use
Fragrance free
Lanolin free
Paraben free

Ingredients:
Aqua, Isopropyl palmitate, Cetearyl alchohol, Glycerin, Caprylic/capric triglyceride, Butyrospernum parkii (Shea) butter, Glyceryl stearate citrate, Cera alba (Beeswax), Cetyl palmitate, Caprylyl glycol, Xanthan gum, Potassium sorbate, Citric acid, Helianthenumum, Clematis vitalba, Impatiens glandulifera, Prunus cerasifera, Prunus cerasifera, Ornithogalum umbellatum (RESCUE) Malus pumila.

Directions:
Apply a generous amount to the desired area. Re-apply as required.

Other:
Suitable for hands, body, face and safe to use on rough, flaking or chapped skin. Safe for the whole family.
For external use only.