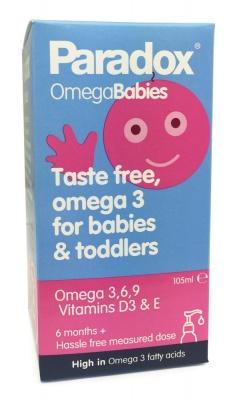 OMEGA BABIES 105 ML
PARADOX
PX004
Paradox Omega Babies 105ml
Omega Babies
Taste free, omega 3 for babies & toddlers
Omegas 3, 6, 9. Vitamins D3 & E
6 months+. Hassle free measured dose
High in Omega 3 fatty acids
Paradox OmegaBabies is a natural source of essential Omega 3, specially formulated for babies and toddlers from 6 months to 6 years. Its unique formulation means it is virtually taste free and is easily concealed within food and yoghurts.
DHA contributes to the maintenance of normal brain function and vision.
Sustainable source of oil. Pure & natural. Unique & balanced formula. No additives & no concentrates.
Every squirt contains essential Omega 3 fatty acids from pure fish oil, antioxidant rich Mediterranean olive oil & organic lemon oil.

Nutritional Information:
Per 4ml (2 Squirts)
Omega 9 - 946mg
Omega 3 - 875mg
of which EPA DPA DHA - 765mg
Omega 6 - 127mg

Ingredients:
Pure fish oil, pure extra virgin olive oil, pure lemon oil.
Natural Polyphenol Antioxidants within extra virgin olive oil.
Allergen: See ingredients in bold

Directions:
6 months - 1 year: 1 squirt (2ml)
1 year+: 2 squirts (4ml)
Just squirt & mix into food, yoghurts & smoothies.
Do not exceed the recommended daily dose.
For best results keep refridgerated.

Other:
Use within 2 months of opening.
Food supplements must not be used as a substitue for a varied and balanced diet and a healthy lifestyle.