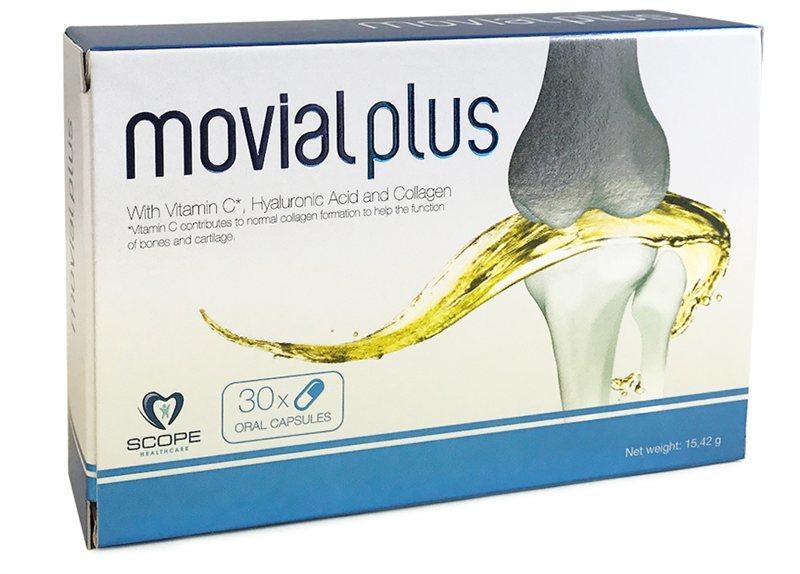 MOVIAL PLUS 30 Caps
ACTAFARMA
SC001
Actafarma Movial Plus 30 caps
Movial Plus - With Vitamin C*, Hyaluronic Acid and Collagen.
Movial Plus is a natural food supplement that provides the innovation of its registered complex Fluidart®, formulated with high molecular weight hyaluronic acid, and hydrolyzed collagen type II, pomegranate extract and vitamin C, specifically developed to support normal collagen formation for bones and cartilage.

HOW DOES IT ACT?
Thanks to its exclusive combination of active ingredients, Movial Plus presents a triple action mechanism:
1. Hydrolyzed collagen type II occurs naturally in the body. This is a source of amino acids which give structure and tone to connective tissue.
2. Vitamin C contributes to normal collagen formation, healthy bones and cartilage, all of which are the building blocks of our joints. It also contributes to the protection of cells from oxidative damage (often due to ageing).
3. Hyaluronic acid is a key component of the extracellular matrix, occurring naturally in the body, it is a key component of synovial fluid and cartilage.


Ingredients: 
Fluidart 357mg (hydrolyzed collagen type II 180mg, dry pomegranate extract (Punica granatum) (fruit) 90mg (20% punicalagins, 40% polyphenols), vitamin C (L-ascorbic acid) 80mg (100% NRV), hyaluronic acid 7mg), gelatin (capsule), stabilizer (E-460i), antiaggregant (E-470b), capsule [colorant) (E-171, E-172)] (typical values per capsule/daily serving).

Directions:
One capsule per day.

Other: 
Do not exceed the recommended daily dose.
Keep in a cool dry place. Food supplements are not intended to replace a varied and balanced diet, nor a healthy lifestyle. Keep out of the reach of children. Not for children under 12 or pregnant or breast feeding women. To be taken orally.
Allergens: Gelatin from bovine/porcin origin.
Allergens: Hyaluronic Acid from rooster/hen comb origin. Collagen from avian origin.