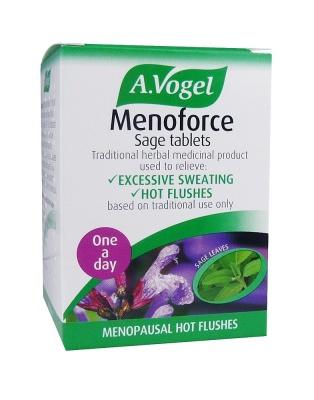 MENOFORCE 30 TABS
A VOGEL
BF30445
A.Vogel Menoforce 30 tabs
Menoforce Sage tablets - herbal remedy for menopausal symptoms of excessive sweating, hot flushes and night sweats.

Sage herb has been used traditionally to treat some of the most common and troublesome symptoms of the menopause such as the famous but socially embarrassing and uncomfortable hot flushes. Following close behind are the accompanying night sweats making peaceful sleep elusive.

Benefits and features:
Treatment of menopausal excessive sweating, hot flushes and night sweats
Extract of freshly harvested sage herb
Convenient to use - one tablet per day
Extracts of sage herb, such as Menoforce Sage tablets, have become one of the most popular menopause treatments, gaining a reputation as a simple way of helping deal with excessive sweating, hot flushes and night sweats during the menopause.

Menaforce Sage tablets
A traditional herbal medicinal product used for the relief of excessive sweating associated with menopausal hot flushes, including night sweats exclusively based upon long-standing use as a traditional remedy.


Ingredients:
1 tablet contains 51mg of dried tincture from fresh Sage (Sakvia officinalis L.) leaves (1:17-18). Extraction solvent: ethanol 68% V/V. The other ingredients used for the tablet are microcrystalline cellulose, sucrose laurate and hydrogenated cottonseed oil. This product contains sucrose.

Directions:
Women experiencing menopausal symptoms: Take 1 tablet daily.

Other:
Not for use in children or those under 18.
For oral use only. Read leaflet before use.
Do not use if you are allergic to Sage or any of the other ingredients.
Keep out of reach and sight of children.
Use within 8 months of opening.