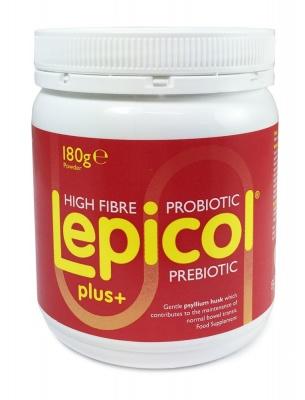 LEPICOL+ DIGEST ENZYMES 180G
LEPICOL
LH013
Lepicol Plus Digestive Enzymes 180g
Lepicol is made of natural source ingredients which help to maintain the efficient action of the bowels. Taken daily, it will safeguard your fibre intake to help ensure regular bowel movements, whilst at the same time providing friendly bacteria important to maintain a healthy balance.
Digestive Enzymes: We have now added plant enzymes for those Lepicol users who are also interested in the added benefits of natural ingredients which support digestive functions.
Gentle Colon Cleansing and Digestive Support.
Ingredients:
Psyllium Husks, Inulin (prebiotics). Probiotic Cultures: Lactobacillus plantarum, Lactobacillus rhamnosus, Lactobacillus bulgaricus, Lactobacillus acidophilus, Bifidobacterium bifidum.
Digestive Enzymes:
Protease, Betaine Hcl, Ginger Root, Papain, Peppermint Leaf, Fennel Seed, Bromelain.
Directions:
It is recommended to take Lepicol plus Digestive Enzymes 10 minutes before a meal. Shake the pot to ensure the ingredients are properly mixed.
Adults:
Mix 2 heaped teaspoons (10g) twice daily with water of fruit juice and consume immediately. It is important to always follow this witha further cup of water or fruit juice. After 2 weeks it should be possible to halve the above intake.
Children/Young Adults:
Take one heaped teaspoon (5g) twice daily. Mix with water or fruit juice and consume immediately. It is important to always follow this with a further cup of water or fruit juice. Parents should seek the guidance of a practitioner before giving Lepicol to children under 11 years.
Liquid Intake:
Aim for a minimum of 250ml of water or fruit juice for every 5g (1 heaped teaspoon) of Lepicol.
Other:
As Lepicol isnt absorbed by the body, it is suitable for reglular everyday use. Safeguard your fibre intake by adjusting to requirements. Some may find it neccesary to revert back to the initial intake recommendation, whilst others may find that they require less.
Lepicol is Gluten free, Wheat free, phytate free, Lepicol is suitable for vegetarians. Contains traces of milk and soya at a level which would not affect lactose intolerance sufferers.
Taking Lepicol without water could cause choking, Keep out of the reach of children. If at anytime you experience discomfort after taking Lepicol, simply reduce the intake until this dissapears. The intake can then be increased gradually. If you have recently had intestinal surgery or have any intestinal obstruction, consult your doctor before taking Lepicol.