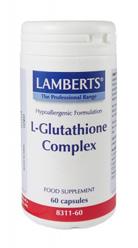 Lamberts L Glutathione Complex 60 caps
LB8311-60
Lamberts L Glutathione Complex 60 caps
Pure free form L Glutathione Complexthat is ready to be absorbed.

L Glutathione is a tripleptide composed of three amino acids: Cysteine, Glutamic Acid and Glycine. Of its many roles in the body it is best known for its antioxidant function.

Amino acids are used by the body to build proteins. Proteins are essential for the formation of cells and are also involved in the biochemical structure of hormones, enzymes, neurotransmitters and antibodies.
Lamberts amino acids are presented in their free form, which means that they are ready to be absorbed and used by the body.


Nutritional Information:
(Typically per capsule):
L Glutamic Acid- 194mg, L Cysteine - 158mg, Glycine - 98mg, L Glutathione - 50 mg.

Ingredeints:
L Glutamic Acid, L Cysteine, Microcrystalline Cellulose, Capsule Shell (Gelatin), Glycine, L Glutathione, Silicon Dioxide, Magnesium Strearate.

Directions:
Take 1to 3 capsules dailywith water or fruit juice, or as directed by a practitioner or pharmacist.
An amino acid is best taken half an hour before any meal or at bedtime.

Other:
Do not exceed recommended daily dose. Do not take if pregnant or breast feeding.