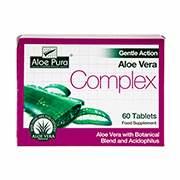 GENTLE ACTION COLAX 60 TABS
ALOE PURA
E1701
Aloe Pura Gentle Action Aloe Vera Complex 60 tabs
*Aloe Pura have recently re-branded Gentle Action Colax to Gentle Action Complex.

This food supplement contains a unique combination of Aloe Vera, Lactobacillus acidophilus and other botanical ingredients. Aloe Pura Gentle Action Aloe Vera Complex tablets provide Aloe vera, combined with a unique blend of botanicals and millions of live cultures.

Nutritional Information (Active Ingredients):
(Two tablets typically provide:)
Magnesium - 375mg
Prune extract - 100mg
Aloe vera extract - 100mg
equivalent to Aloe barbadensis juice - 20,000mg
Liquorice - 100mg
Aniseed (Green Anise) - 20mg
Lactobacillus acidophilus - 50 million organisms

Ingredients:
Bulking agent (Sorbitol), Magnesium Oxide, Prunus Domestica (prune extract), Bulking agent (Sodium Carboxy Methyl Cellulose), Glycyrrhiza glabra (Liquorice) powder, Aloe Vera powder, Anti caking agents (Magnesium Stearate from vegetable source, Silicon Dioxide), Aniseed Powder, Coating (Hydroxypropyl Methyl Cellulose, Glycerin), Lactobacillus Acidophilus.

Directions:
Take two tablets before bed.
Do not exceed the stated recommended dose.

Other:
No artificial flavouring or colours. Aloin removed.
Suitable for Vegetarians.
Consult a healthcare professional before use if you are pregnant, breastfeeding or taking prescribed medication.
Not suitable for children.
Excessive consumption may produce laxative effects.
>400mg Magnesium may cause mild stomach upset in sensitive individuals.
Made using concentrated Aloe Vera so you can be sure it meets the highest quality standards.
A varied, balanced diet and a healthy lifestyle are important. This is a food supplement and should not be used as a substitute.