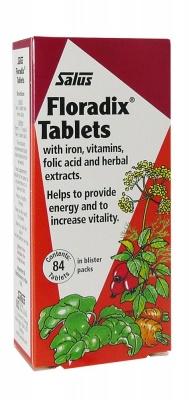 Salus Floradix Tablets 84 Tabs
SALUS-HAUS
SH036
Floradix Tablets are a nutritional food supplement which provide organic iron, B-vitamins, vitamin C, folic acid and strengthening herbal extracts. The tablets are available as a convenient travel pack for people on the move.
Floradix tablets are especially suitable for women (including expectant and nursing mothers) and people with an active lifestyle.
Helps to provide energy and increase vitality
Ingredients:
Yeast extract, herbal dried mixed extract from: lactose, spinach leaves, ocean kelp, fennel, angelica root, carrot and silicon dioxide; ferrous gluconate, sugar, bulking agent: talc, maize starch, separating agent: calcium carbonate; rose-hip dry extract containing 4% vitamin C (rose hip peels, maltodextrin); vitamin C, stabilizer: croscarmellose sodium, gum arabic; nicotinamide, colouring: titanium dioxide, coating agent: shellac; bulking agent: precipitated silicon dioxide, kaolin; stabilizer: cellulose, coating agent: calcium stearate; colourings: iron oxides; vitamin B12 (cyanocobalamin), vitamin B6 (pyridoxine hydrochloride), vitamin B1 (thiamine hydrochloride), vitamin B2 (riboflavin); emulsifier: polysorbate 80, glazing agents: bees wax, camauba wax; folic acid.
Directions:
Adults: take 1 tablet two times daily
Children 3-12 years: take 1 tablet daily