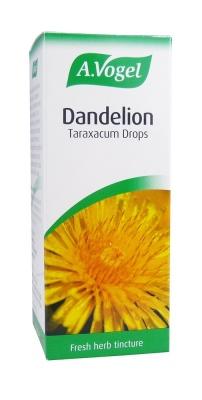 DANDELION 50ML
A VOGEL
BF027
A.Vogel Dandelion 50ml
We encounter Dandelion (Taraxacum) most commonly as a weed, rather than in this beneficial fresh herb tincture.The Dandelion is well known for its flower, its roundel of seeds and its trademark smell. Far from discarding it as an invasive weed, our gardeners carefully nurture their annual crop because they know, as Alfred Vogel did, the benefits of using the whole plant including the roots of this undervalued plant to help maintain the bodys health.

Ingredients:
Tinctures of organically grown fresh leaves and roots of Taraxacum officinalis (Dandelion), extracted in alcohol (50% v/v).
Directions:
Adults: 15 drops in a little water 3 times daily.
Children: This product is not recommended for children.
Other:
Please seek medical advice if pregnant.
Keep out of reach and sight of children.
Store in a cool dry place.