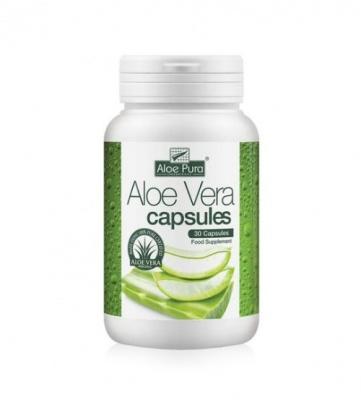 ALOE VERA OAD 30 CAPS
ALOE PURA
E1056
Aloe Pura Aloe Vera Capsules 30 Caps
High Strength Aloe Vera Capsules
Aloe Pura Aloe Vera capsules provide a convenient method of supplementing the diet with high-quality, certified Aloe Vera. Each capsule delivers an amount of concentrated extract equivalent to 12000mg of fresh Aloe Vera.

Nutritional Information:
(per capsule)
Aloe Vera Powder (200:1) - 60mg
equivalent to Aloe Vera - 12000mg

Ingredients: 
Soya bean oil (non GM), Capsule shell (Gelatin (Bovine), Glycerol, Colour (Iron Oxide)), Concentrated Aloe Vera extract (200:1), Beeswax, Thickener (Silicon Dioxide), Emulsifier (Soya Lecithin).

Directions: 
Take one capsule up to three times daily as required, before food.
Do not exceed the stated dose.

Other:
No artificial flavours, preservatives or GM ingredients.
Consult a healthcare professional before use if you are pregnant, breastfeeding or taking prescribed medication.
Not suitable for infants.
Certified, concentrated Aloe Vera extract.
Aloe Vera (Aloe Barbadensis Miller) inner gel fillet.
Aloin removed.