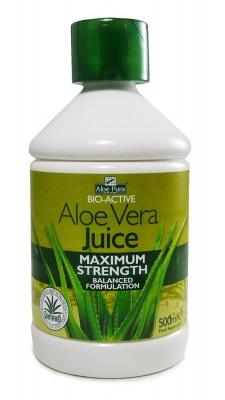 ALOE VERA JUICE MAX STRENGTH 500 ML
ALOE PURA
E1006
Aloe Pura Aloe Vera Juice Max Strength 500ml
A unique blend of whole leaf and unfiltered inner gel, from cultivated aloe vera plants grown in Texas. Using the minimum of processing to allow the plants natural components to remain unaltered, our juices contain no artificial sweeteners or masking flavours, only the bitter aloin is removed through gentle processing. We select only fresh aloe vera plants to produce our juice, providing the greatest level of natural activity available, as nature intended.
Maximum strength. 
Soothing and may help maintain a healthy digestive system. 
Rich in polysaccharides. 
No artificial sweeteners, flavours or colours. 
Certified as naturally grown.
Ingredients:
100% Natural Aloe Vera Juice, Preservatives; Potassium Sorbate, Sodium Benzoate, Citric Acid, Ascorbic Acid.

Directions:
Shake well before use. 25ml (1.5 tablespoons) twice daily on its own, or you can mix it with water/fruit juice.

Other:
Avoid use whilst pregnant or breast-feeding. Not suitable for infants. Shake well before use. Refrigerate after opening and consume within two months. Suitable for Vegetarians & Vegans.