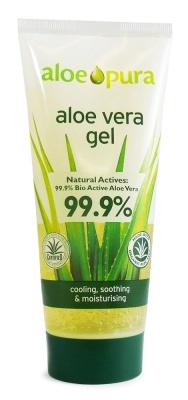 ALOE VERA GEL 100 ML
ALOE PURA
E1235
Aloe Pura Aloe Vera Gel 100ml
This Bio Active treatment gel moisturises, softens and helps restore dry, damaged skin. Produced from 100% pure Aloe gel, capturing the maximum nutritional activity of the Aloe Barbadensis plant

Ingredients: 
Organic Aloe Barbadensis (99% Bio Active Aloe Vera Inner Gel)* Acrylates/C10 30 Alkyl Acrylate Cross Polymer, Pantethanol, Disodium EDTA, Sodium Hydroxide, Phenoxyethanol, Methylparaben, Propylparaben. * Organically Grown.

Directions for Use: 
Apply liberally to skin. Avoid contact with eyes.