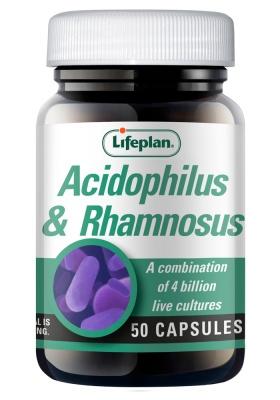 ACIDOPHILUS & RHAMNOSUS 4 billion 50 VCAPS
LIFEPLAN
LF081
Lifeplan Acidophilus & Rhamnosus 4 Billion 50 vcaps
Lifeplan L. acidophilus & rhamnosus is prepared using a guaranteed 4 billion friendly bacteria, which help to maintain a healthy intestinal microflora balance especially during and after antibiotic therapy.

This product has been specially freeze dried so that it does not require refridgeration and can withstand temperatures of up to 20oC.


Nutrition information:
(Typically per capsule):
Lactobacillus rhamnosus - 300mg
Lactobacillus acidophilus - 100mg

Ingredients:
L.rhamnosus prep, L.acidophilus prep, Capsulw Shell (Cellulose), Antioxidant (Vitamin C).

Directions:
Take one to three capsules daily, preferably before a meal.

Other:
Contains no added sugar, salt, starch, soya, gluten, live yeasts, synthetic flavours, artificial colours or preservatives.
Suitable for vegetarians.